Ingredients:
1 shallot
3 gloves of garlic
1 chorizo
2 tablespoons of tomato pure
1 dcl water
250g prawns (I used cooked ones)
1 green pepper
150g sweet corn
a jar of tomato sauce
300g penne pasta
a pinch of black pepper
and olive oil
Method:
Start chopping shallot, garlic, green pepper and chorizo.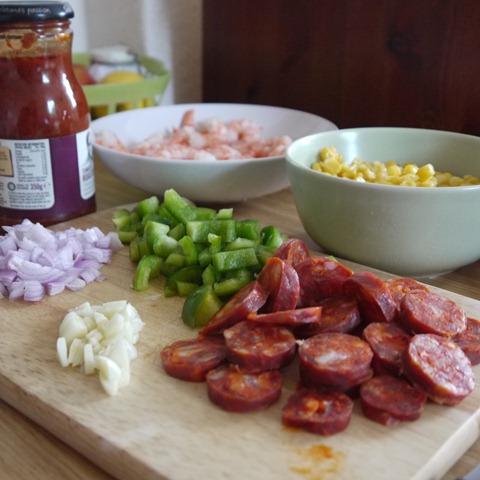 In a pan, preheat the olive oil and slightly glaze chopped shallot and garlic until soften and translucent. Once they are soften, add a pinch of black pepper for little bit of seasoning. Pop chorizo into the pan and fry for a couple of minutes until chorizo oil colour your shallot and garlic mixture. Add 2 table spoons of tomato pure and little bit of the water to soften the whole texture. Add chopped green pepper and continue cooking for another few minutes. Meanwhile, you can prepare penne pasta.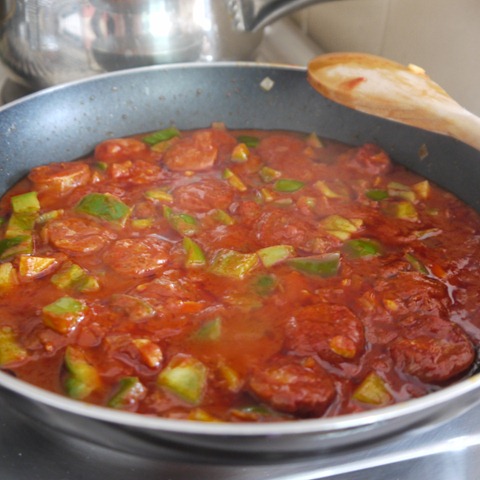 Add prawns into the sauce and pour jar of tomato sauce. (I have used Lloyd Grossman tomato sauce with roasted garlic.) Continue cooking for another 5 minutes. Towards the end add sweet corn and leave to cook until soften.
If you want you can add the pasta directly to the sauce. I prefer to serve clean pasta first and then add the sauce on top of that.
I have decided to enjoy the meal with the glass of Italian red wine. Enjoy!