Ingredients:
400g medium sized potatoes, peeled
1 shallot, peeled and chopped
4 garlic cloves, peeled and chopped
2cm piece ginger, peeled and chopped
olive oil
1 tsp. paprika
1 tsp. ground coriander
400g tinned tomatoes
400g tinned chickpeas
100g washed spinach
bunch of flat parsley
salt and pepper for seasoning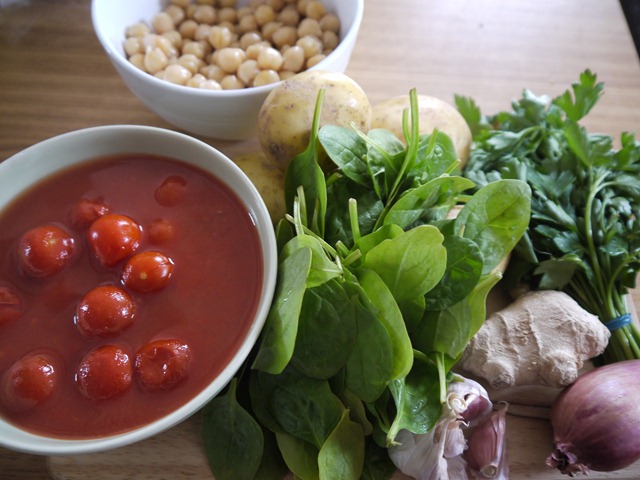 Method:
Put the potatoes in a saucepan with salt and cook for 15 minutes. Put the onions, garlic and ginger in blender with three tablespoons of water and puree.Put the oil in a large pan and add the puree. Cook, stirring well, on a medium heat for 6 minutes. Add the ground coriander, paprika and seasoning and continue cooking for another 2 minutes. Then add the tomatoes and 150 ml water and cook for further 5 minutes.
When the potatoes are ready, drained them and cut them into chunky pieces. Add the chickpeas to the tomato mixture along with the potatoes and cook for 10 minutes. At the end, stir in the spinach and add more seasoning if needed. Garnish with the chopped flat leaves parsley.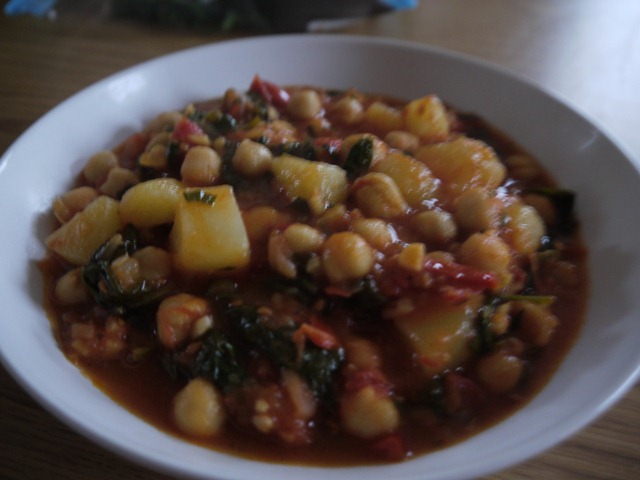 And here is the final touch to the dish – I have added simple pan fried fillet of kipper.It was delicious!!!